If you've recently noticed any peculiar sounds or feelings when tapping your brakes, it could be time for your brakes to get some maintenance. Let the Mercedes-Benz of Fayetteville service team help you get your brakes back where they need to be in Fayetteville, NC, and near Southern Pines, Pinehurst, Lumberton, and Raleigh, NC.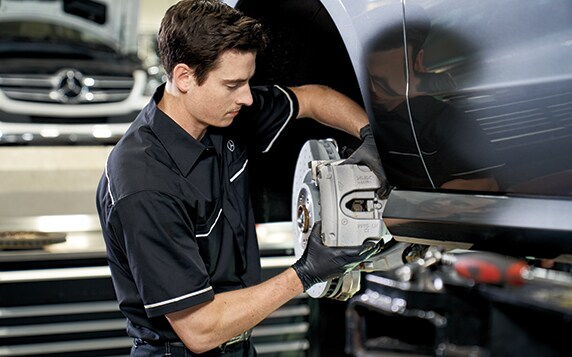 Keep the below list of things on your mind, because they could determine whether or not you need brake service.
Shaky Steering Wheel
If you are driving on a smooth road and notice vibrating or shaking in your steering wheel, this is a sign to come see our service team at Mercedes-Benz of Fayetteville.
Burning Smell
You know what your car should smell like more than anyone, so if you notice a strange burning smell, this could very well be your brakes overheating.
Shaky Brake Pedal
When tapping your brakes, if you notice shaking in the pedal, it could be time for brake service.
If any of these signs come up, make an appointment soon with Mercedes-Benz of Fayetteville Service. Feel free to give us a call at (910) 487-0000. Our department is located at 420 Glensford Drive, Fayetteville, NC 28314. Be sure to check out our service specials updated monthly on our website. Our hours are Monday-Friday from 7:30AM to 6PM, and Saturday from 9AM to 5PM.